Thanks to everyone's participation, this event of a new kind was a great success!
Various thematic workshops took place on our assembly of September 28th, 2019. The themes were determined as according to the open space method in the opening plenary and were treated subsequently in sub-groups.
During the opening plenary, the themes of the day have been determined with the participation of all and deposited on an "empty" agenda, at the predetermined times and places. The thematic workshops were then formed and took place in 2 periods (morning and afternoon).
Here are the themes on which the citizens have chosen to work.
You are invited to comment on each of these pages:


The assembly end with a presentation of each workshop, as well as the testimony of electoral candidates if present, who are invited to the day to take a bath of citizen self-management and get involved themselves as citizens.
The schedule for the day was organized as follows:
09:30 : Welcome
10:00 : Opening plenary
11:30 : Workshops on issues
12:30 : Free lunch
01:30 : Workshops on solutions
03:00 : Pause
03:15 : Presentation of solutions in plenary
04:30: Candidates testimony
05:00 : Social & Conclusion
Plenary Presentation
Following the 2 periods of work in sub-groups, each of the groups was asked to create a summary of the different points that were raised and to designate one or more presenters to show the result of their workshops.
It has been a great success thanks to the everyone's participation!
Here are videos of the closing presentations:
Pictures of our first citizen assembly held on August 28, 2019
at Resto-Plateau (Montreal)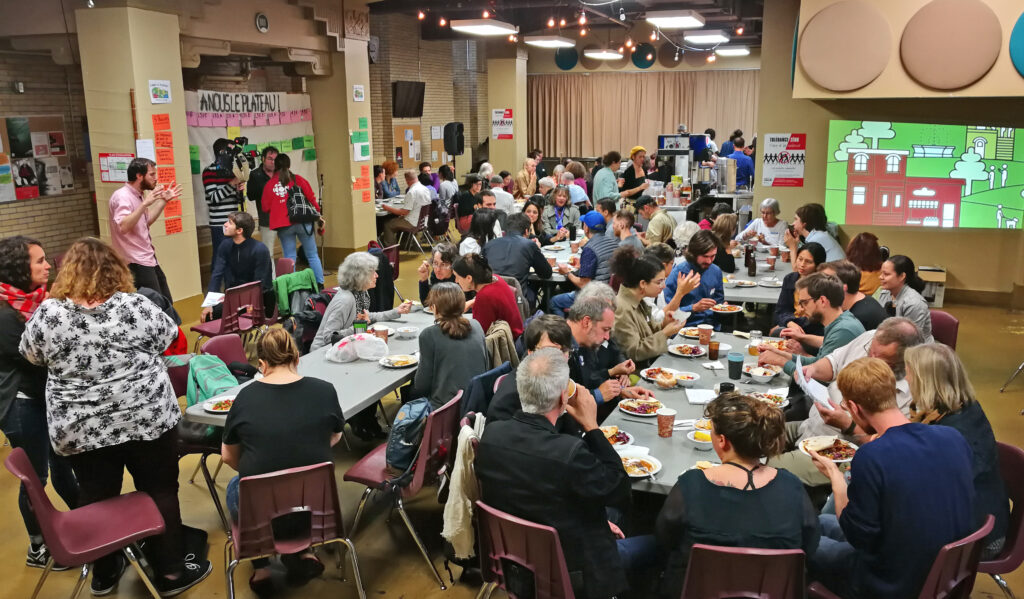 ---
Invitation to the first assembly
Open forum and pre-election meeting between citizens and federal and municipal candidates
On September 28th 2019, join your neighbors to create a vision for the Plateau!
Do you have opinions and ideas about how the Plateau is changing and what it means for the future of those who live and work here? You are not alone! Join your neighbors for an non-partisan open forum to identify issues facing Plateau residents and workers, explore solutions, and communicate with municipal and federal candidates and elected officials.
À nous le Plateau! is a citizens' assembly where the participants determine the agenda. The first episode of this exercise in participatory democracy will take place just prior to the municipal and federal elections in October. In addition to addressing issues pertaining to municipal and federal policy, participants in this event can help plan future assemblies where neighbors can tackle more issues.
Join us for this event of a new kind!
« À nous le Plateau! » Citizen's Assembly
September 28th, 2019
9h30 : Welcome
10h00 : Opening plenary
11h30 : Workshops on issues
12h30 : Free lunch
13h30 : Workshops on solutions
15h00 : Pause
15h15 : Presentation of solutions in plenary
17h00 : Social
(Childcare : 9h30 – 12h30 / 13h30 – 17h00)
À nous le Plateau! is looking for volunteers to help organize the event. Write to us at anousleplateau@gmail.com for more information.
Free vegan meal and daycare on site.
Accessibility:
4450 Saint-Hubert street and, for people with reduced mobility, 4449 Berri street (at the back of the Mont-Royal metro station).
In association with
Arrondissement Plateau Mont-Royal, La Maison d'Aurore, Action Solidarité Grand Plateau Community Development Corporation (CDC ASGP), Plateau Mont-Royal Housing Committee (Comité Logement Plateau Mont-Royal – CLPMR), Milton-Parc Citizen's Committee (CCMP), Students' Society of McGill University (SSMU) and Association québécoise des personnes aphasiques (AQPA).
Special thanks to
All the citizens who helped us in making this possible, Centre de services communautaires du Monastère, Centre de lecture et d'écriture de Montréal, Projet Changement and Dîners St-Louis.
If you can help us distribute flyers and posters in your neighborhood, you can get some at Comité Logement (mon-fri, 9 to 5). If you have access to a printer, please help us in the distribution by printing the flyers and posters below.